Converting your selfie to anime or to something that looks fully animated is becoming increasingly popular because it can have a lasting impression if done right, plus it doesn't take a lot of effort. However, you still need to find the perfect tool whose photo to anime art style is something that suits you. You can turn yourself into anime if you are simply a fan or you can also use it if you need something fresh and creative for social media. We will give you a solid list of ten applications that are the best tools for selfie to anime conversions.
Best 10 Selfie to Anime Tools
Price: You can use the Toongineer Cartoonizer to convert selfie to anime online free three times. You will then need to purchase a paid plan starting from $9.90 per month.
Vance AI is an overall online product for multiple types of image editing requirements and the Toongineer Cartoonizer is one of them. This tool automatically analyses images and turn photo into cartoon. Given its AI and Deep Learning technologies, this application gets it right most of the time and processes images pretty quickly. With batch processing activated, you can process up to ten images very easily and get great results anyway. Not to mention that you can use other Vance AI products like AI Image Enlarger, AI Portrait Retoucher (blemish remover), etc on top of this one to further enhance your images.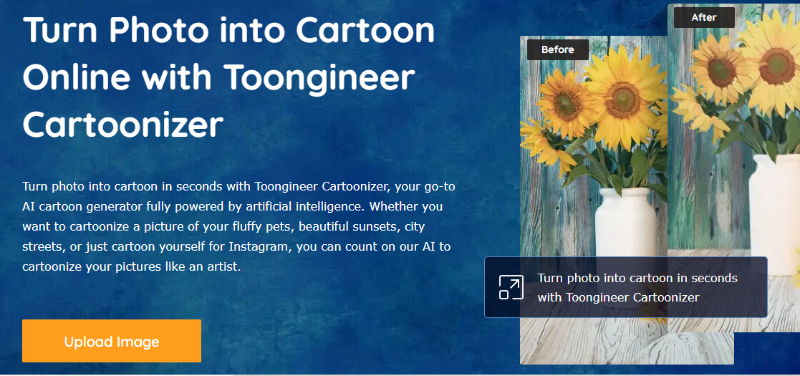 Pros:
It produces some really good images.
It can process images faster than the majority of other tools.
Extra features that are useful.
Cons:
Limited free use only.
You cannot choose your own style.
The Cartoonizer is not included in the software edition.
Price: The selfie2anime online application will turn selfie to anime online free of cost for all users.
The selfie2anime online application is a fairly popular choice for many users when they want to make a selfie to anime online without paying and yet receiving a decent result out of it. This tool makes use of the GAN technology to give a real photo some great anime style makeovers and this is where it specializes. It is advisable to use this application when you want an image that is completely reminiscent of anime art styles. Just upload an image and it will automatically provide you an output.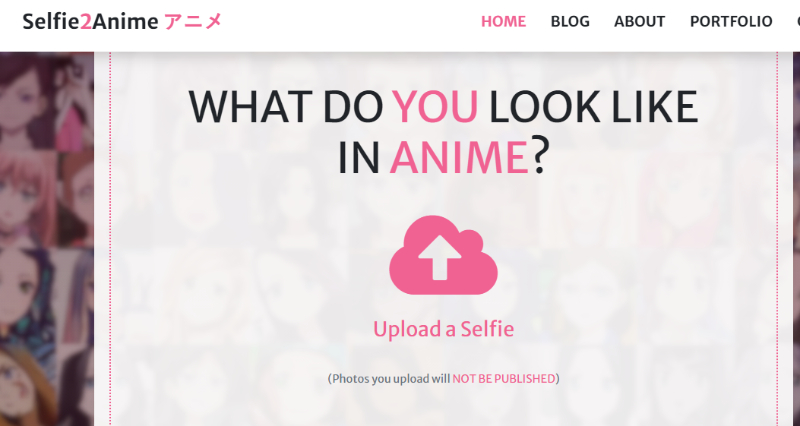 Pros:
Easy to use.
Good enough results.
Popular website.
Cons:
Takes time to process.
Doesn't do well with big resolutions.
Won't support many file formats.
Price: This website is absolutely free for any kind of conversions online.
This website is similar to the previous one though designed a bit differently. Other than the fact that this tool allows you to convert selfie to anime images, it also offers two mini-games from its website that you can play instantly just by clicking on the links given by them on the website. You can either take a selfie on the website by granting permissions or upload an already saved one. You can also visit its Facebook page if you are looking for a community experience.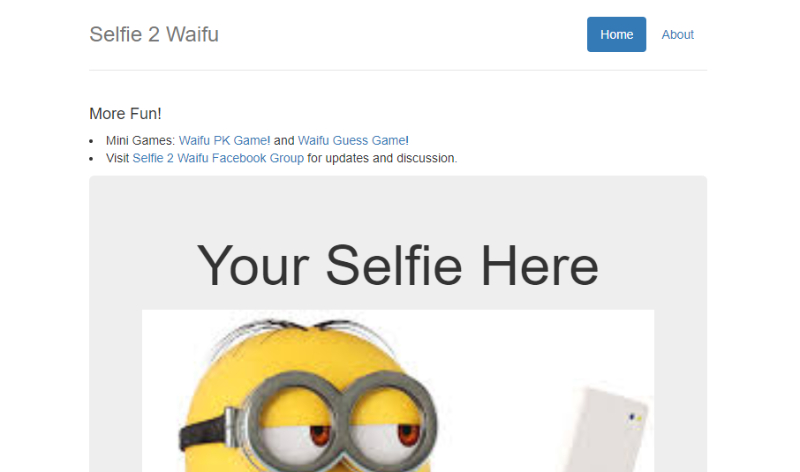 Pros:
Easy to use tool.
Can take photos from the site.
Games and Facebook group.
Cons:
Results can vary.
The uploaded images have to be very clear.
Takes time to process.
Price: Though you can change selfie to anime images completely for free, this tool still contains in-app purchases for a few features and ads.
The first mobile application to feature in this list is ToonMe and for good reason. It has a variety of different and fun to use features that spice up your typical selfie to anime conversions even more. You can create cartoon and vector images from the app and choose from dozens of layouts for the images. One of the best features of this app is being able to choose from multiple art styles to apply to your pictures.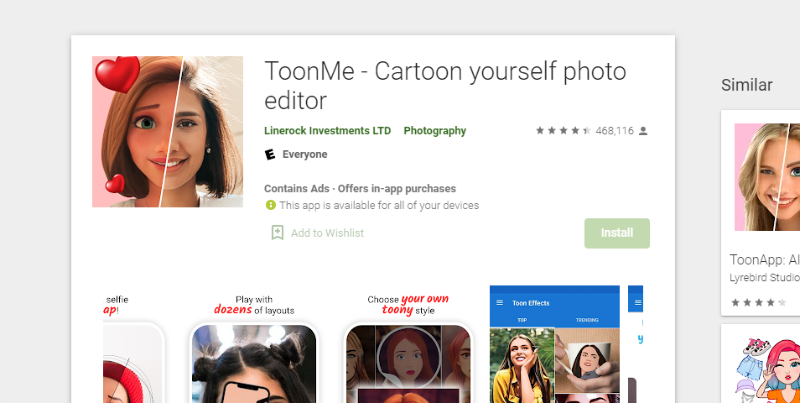 Pros:
Easy to use.
Cool and fun features.
Free to use.
Cons:
A few features are paid.
Contains ads.
Not all results are great.
Price: You can easily make picture to anime styled photos from this tool for free but it still contains in-app purchases.
Similar to the previous application, this one also features a cool list of filters that are applicable on your photo. These filters are unique enough to make the image look like a cartoon but different each time to add fresh looks. It also has an Instagram based challenge for image editing that users can participate in. Other than that, it provides an AI based photo editor too.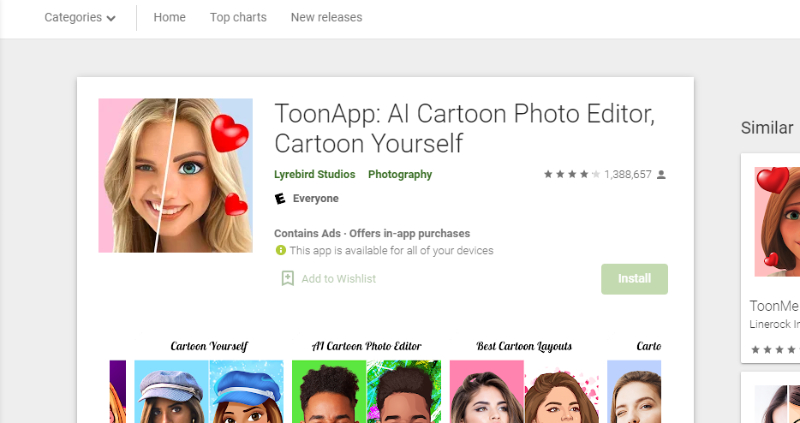 Pros:
It has cool features.
Easy to use.
AI photo editor mode.
Cons:
Contains many ads.
In-app purchases included.
Cartoon backgrounds could be better.
Price: You can convert selfies to anime or cartoons with this tool for free. For all features, you can pay $4.99 billed annually.
BeFunky excels in the fact that it offers a really good editor for users to try out before going ahead with the conversions and image processing. The editor is designed similar to most image editing online applications but easier to use and pretty responsive as well. You can apply multiple kinds of cartoon effects with just a click. It also offers a bunch of good stock images for users.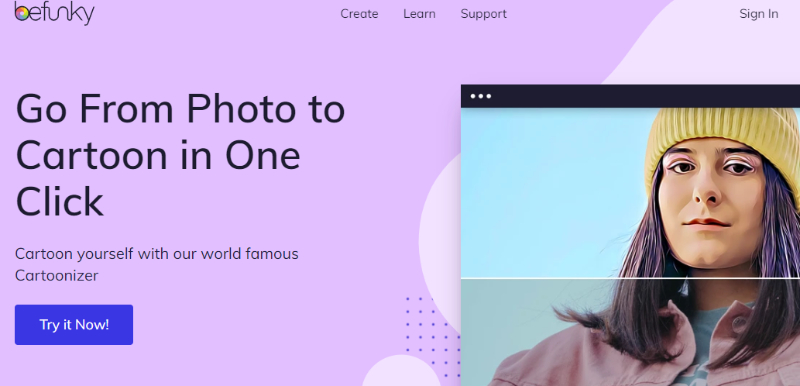 Pros:
Good editor.
Pretty cool cartoon effects.
Affordable pricing.
Cons:
Processing takes a lot of time.
Many features are locked away.
It doesn't have a fully anime style option.
Price: This is a free tool to make selfie to anime but it does contain in-app purchases.
This application is usable on Apple devices and has a fairly straightforward way of converting images into various kinds of cartoon or anime effects. It is an automatic tool as well, so all you need to do is upload an image and add a cartoon sticker to it. The tool also has other features such as adding different backgrounds, stickers, layouts, and more.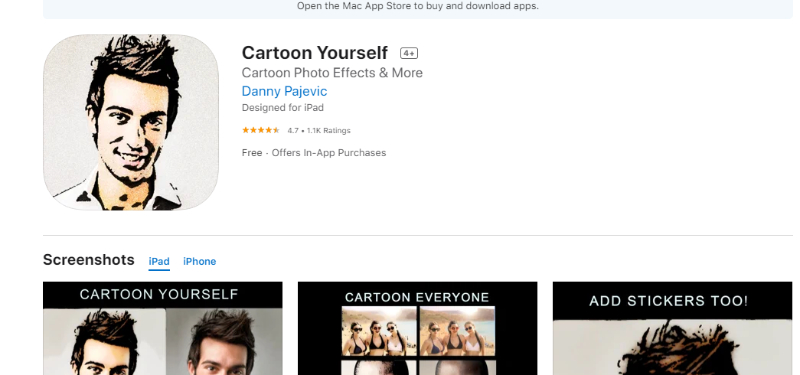 Pros:
Easy to use app.
Automatic processing.
Free to use.
Cons:
Slow processing.
Not many features.
The results aren't remarkable.
Price: Users will get up to 50 credits per month for free. For more credits and features, the paid plans start from $9.9 per month.
This particular application online is similar to Vance AI, as far as the paid plans and features go. For the Basic plan and above, they offer an active customer service as well as batch processing though it is not exactly mentioned how many images can batch processing allow. When it comes to the technology, however, this tool makes use of GAN.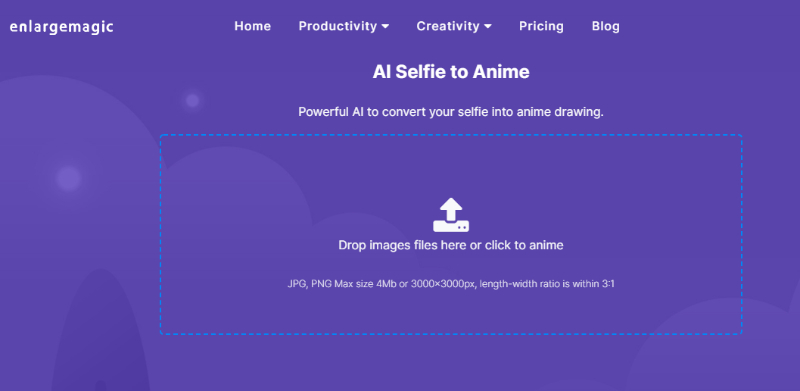 Pros:
Easy to use.
Good UI design.
Affordable pricing.
Cons:
The results are not up to the mark.
Could use better AI tech.
Little to no features.
Price: You can get a face image conversion to a cartoon for $25 while other, more complicated orders will be priced accordingly.
The Cartoonist is unlike other tools that this list includes so far because this website is more of a service than an actual software to be used. You can place an order for the kind of selfie to anime version you want and bill accordingly. The unique feature of this service is that it can convert couples as well as pets for you. You can also do the same for your company logos and posters, giving it a nice all-round use.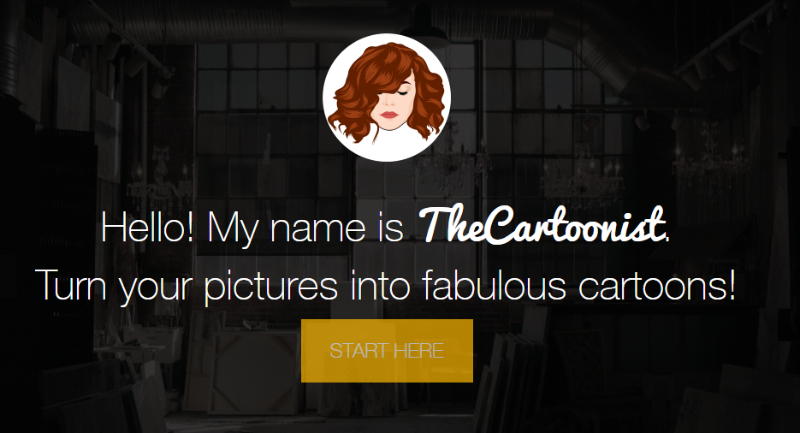 Pros:
Service based conversion.
Great UI design.
Good features.
Cons:
It can be expensive.
Not practical for daily use.
Getting results will take time.
Price: This mobile is available for Apple devices and Android for free though it contains in-app purchases on all devices.
This mobile application makes use of AI based techniques to create cartoon and anime versions of images. It is also an artistic style tool similar to BeFunky filters. You can also expect the basic photo editing tools such as rotate, cropping tool, and more.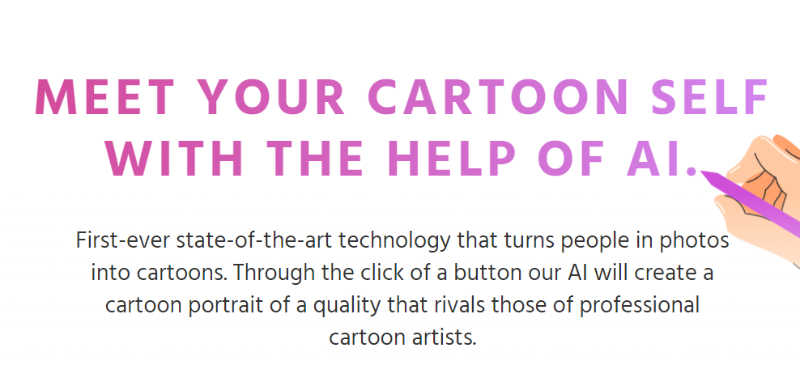 Pros:
It is available on both Apple and Android.
Free to use.
Great features.
Cons:
In-app purchases.
Processing takes time.
It doesn't work well with certain images.
FAQs
1. Do cartoon yourself apps really work?
They definitely do. However, it is also important to search and use the applications that are genuine like the ones given in this list. Additionally, as a user, it is important to know what exactly you want for your output. If you are strictly looking for an anime style image, then many of these tools won't be useful for you. In that case, you should only look for tools like selfie2anime.
2. How to cartoon yourself free online?
You can make a selfie to anime form quite easily using any of the tools mentioned in this list. When it comes to an online application such as Vance AI Toongineer Cartoonizer or selfie2anime, all you need to do is upload an image. The applications will automatically process the image and display the output in a few seconds. You can review it and download it right away.
Conclusion
It is easy as ever to turn photo into cartoon thanks to the kind of technologies that the image editors use. There are now minimum steps involved with the user and most of the heavy lifting is done by the applications. Use these tools to get yourself an amazing anime or cartoon style image within seconds. You can use these images anywhere on social media to freshen up the page or set it as a cool profile picture. Also read: How to Make Emoji Bigger-5 Best Online Ways.